Studio Olafur Eliasson.
Case Study
Raising awareness of Earth Speakr
When world-renowned contemporary artist Olafur Eliasson reached out to us, we were honoured by the opportunity to contribute to his latest project, both because of the cause it supported, and because we're such big fans of his work. The Danish-Icelandic artist is known internationally for applying scientific principles in order to explore our relationship to time and space, and Earth Speakr was taking this idea to a whole new scale.
A truly global project, its goal was to give children from the entire world the chance to speak up about the planet and the change they want to see, in a way that will make adults listen and take notice.
The environmentally conscious message it supported combined with its global scale made this project a dream come true for our team.
We supported the project on many levels, and it was only natural for the artist's studio to come to us when they struggled to reach their very ambitious app download goals towards the end of Earth Speakr's first year.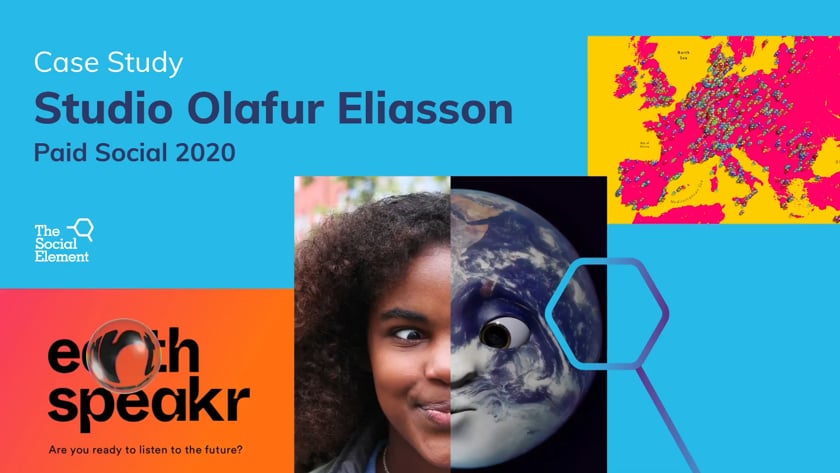 The end of their first period of engagement was coming to an end, and Earth Speakr was struggling to reach its targets for app install. Olafur Eliasson's team turned to us, and asked if we could work some magic to help them reach these ambitious goals on time. We had 2 weeks to boost app downloads and use the paid budget efficiently and effectively.
Our team worked with Studio Olafur to map out a plan and outline how we were going to reach the download goal over the next 2 weeks. Through our human-first approach, we knew to look first at human behaviours. We also knew that to work on a project of this scale, we had to widen our horizons and think globally. What is the common thread between the project, its app, and user behaviours on different continents?
Our approach was three pronged:
Improve targeting
Some users had previously struggled to download the app due to the device specification. We analysed the current targeting to improve it and ensure users in the target market were able to download Earth Speakr.
Maximise budget
As time was of the essence, it was vital that the budget was being used in the most efficient way, by focusing on what delivers the most, at the lowest cost.
Reach new markets
There was potential for growth by reaching new markets who have a heavy focus on sustainability and environmental agenda. By using our insights and research team, we were able to broaden Earth Speakr's reach to new markets and increase the total downloads.
They did it! By improving the targeting and syncing devices;
Earth Speakr saw 17,556 app installs in 14 days.
17x
more than the initial goal!
The budget allocation resulted in cost per install being
87%
lower than previous efforts.
The efforts from our insights and research team into new markets meant Earth Speakr saw
58%
of downloads coming from new markets.
Earth Speakr is an ongoing project from Studio Olafur Eliasson, and continues to give children voices all over the world, helping make the planet a better place.  Check it out and help children around you contribute!