Community Management
Primark Case Study
Gaining global insights from European Markets
The retail industry is a tough, competitive one. Even more so on social media with so many online brands and influencers about. The key is to connect with your customers, turn them into fans and maintain brand loyalty. This is what we did for global retailer Primark.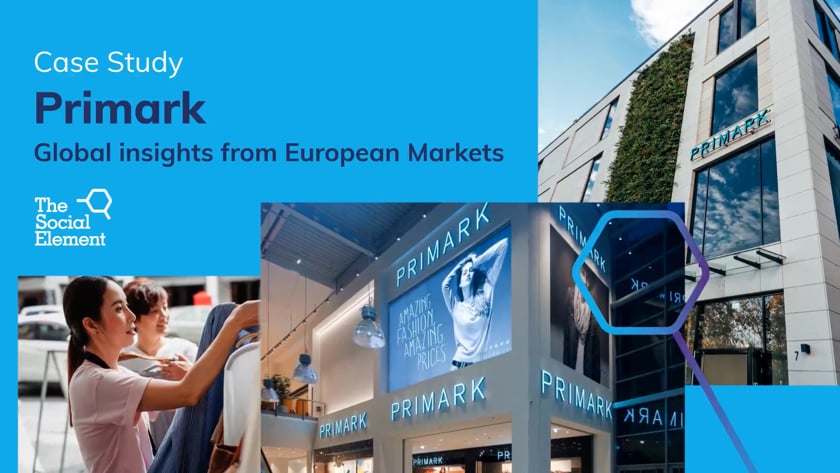 How can a global brand stay aware of conversations and engaged with its customers and targets across multiple platforms and languages? How can Primark ensure they seize opportunities to connect and turn customers into fans?
Global fashion retailer Primark and The Social Element have worked together since 2011 to use social media to solve these business challenges.
We rolled up our sleeves and got to work. After assessing the ecosystem Primark was evolving in, we launched a team of over 30 people to work seven days a week to ensure Primark customers in these markets receive a top quality experience with this brand's social media profiles. With the data we gathered, we were able to optimise the system, see opportunities and fuel business improvement.
We ensure the brand connects with its fans through moderation, localisation, community management and insight in six languages: French, Spanish, Portuguese, Italian, Dutch and German. Ongoing reporting also guarantees the brand is aware of any emerging brand issues.
Our Insights loop allows learnings in one market to be fed back and applied to all other existing and new markets. Working in-synch with Primark we optimised thousands of pieces of content across 6 different markets and languages, over the course of one year.
"The team at The Social Element are the perfect partners to help us deliver a great social media experience to our customers" – Social Media Team
6 languages
in 1 year
1735
conversations started
180,000
fan contributions